On-Premise vs Cloud Software For Local Governments
Learn more about the difference between On-premise and Cloud solutions.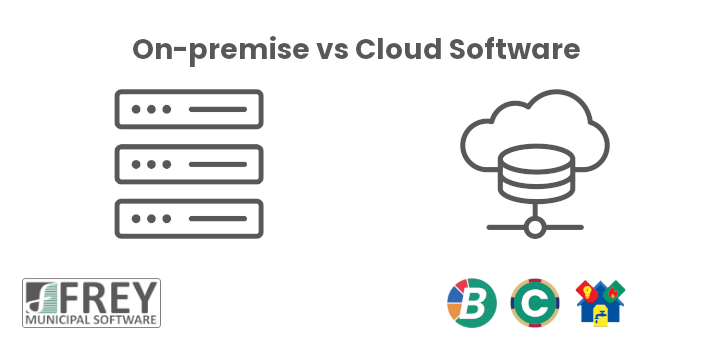 Fiduciary Duties
You have been tasked with sourcing and purchasing the right software for your operation. You know what features you need to make sure the job is done right. The options you are looking at may differ according to whether they are on-premise or cloud-hosted.
You may not be familiar with the difference or lean on someone from IT to help with making the decision. The goal of this guide is to provide you with a comparison between the two. At FMS, we have made the choice to offer our products as On-premise solutions. At the end of the day, your job is to weigh the options and pick what is appropriate for your operation.
What is On-premise vs Cloud?
The primary difference between On-Premise and Cloud solutions is where the software actually "lives". With an On-premise solution, the software is installed on a server that your operation owns and operates. With a Cloud solution, the software resides on the vendor's servers, and you access it through a web browser.
On-premise solutions have been around for a long time. This does not mean that it is an old-fashioned solution. Its longevity is due to its reliability and control. On the other side, cloud solutions are new and are being pushed by many of the big technology companies like Microsoft, Google, and Amazon. This is because it bolsters their bottom line.
Customization
When it comes to Fund Accounting, Payroll, or Utility Billing software, one size fits all rarely works. Having a solution that can be tailored to an organization's unique needs can help adoption and the benefits of the new software are realized more quickly.
With FMS, our products can meet those customization needs while with many cloud offerings, you are stuck with what they have
Whether it is a required process in your district, a special piece of equipment that helps you get the job done, or something you simply want done a certain way; having software that can be easily modified to accommodate those requests can be a huge advantage.
Ownership
In a day where people subscribe to more services than ever, it begs the question: "What do you actually own?"
With On-premise solutions, you own the software, the hardware, and most importantly, the data. Cloud solutions are subscription based. Software and hardware are not owned, and data ownership is typically uncertain.
While that DVD collection might not be especially useful now, there is a significant difference between owning a DVD collection and owning the data behind your Fund Accounting, Payroll, and Utility Billing software. It is critical to make sure you own what you are paying for and that you can export that data if you need to change providers. With cloud solutions, once you are no longer a customer, it is impossible to gain access to the data.
Products purchased at FMS are owned outright and can be used in perpetuity.
Security
Ransomware, phishing, social engineering, and other forms of hacking have increased tremendously. A report by McAfee estimates that cybercrime costs the world economy more than $1 trillion per year. As a result, ensuring your data is protected must be considered.
With On-premise solutions, you can set what security you want in place and can even increase that security after everything is setup. A cloud solution means you will be using whatever security the vendor provides.
As a result, an On-premise solution provides you the ability to create a more secure environment for your organization.
Cost
Any responsible leader has a duty to make sure they're getting the most long-term value for their money. Multi-year cost comparisons as well as considering capital expenditure (CapEx) benefits must be considered.
On-premise typically has a higher up-front cost due to purchasing an ownership software license as well as the hardware costs that may be required. With Cloud options, the cost is in the form of a subscription that is cheaper up front, but adds-up over time.
Making a large software purchase such as one with FMS can be classified as a capital expenditure while cloud options are operating expenditures (OpEx). There are many advantages to having it classified as a CapEx such as it appearing on your balance sheet as opposed to your income statement and being able to depreciate/amortize the purchase compared to no depreciation.
When time is considered, On-premise and cloud solutions are very close in total cost.
Conclusion
The four main factors to consider when comparing On-premise vs Cloud solutions are customization, ownership, security, and cost. We have chosen to provide our solution as an On-premise solution because of the benefits outlined and think they are non-negotiable for Fund Accounting, Payroll, and Utility Billing solutions.