Village of St. Bernard a long-time customer
Learn more about why FMS is the right choice, right from the client.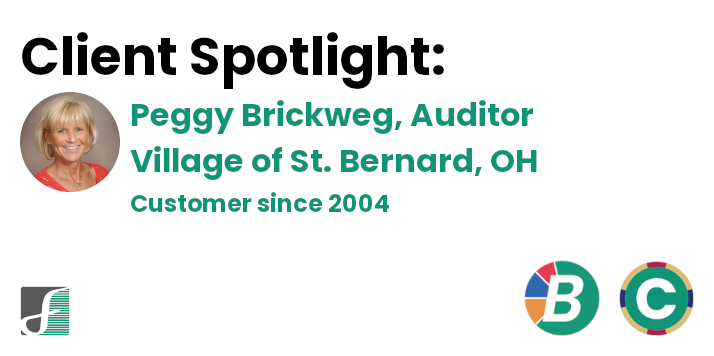 The Village of St. Bernard is an independent community centrally located in the heart of the City of Cincinnati.  Being a part of the greater Cincinnati metro area means great access to renown medical facilities, top ranked universities, as well as being a home to a thriving industrial hub.
Peggy Brickweg started out on the village council.  After spending 8 years on the council, she became the village's auditor.  The Village had become a client of Frey Municipal Software using both BUCS and FMS's payroll system, CHIPS in 1987 so she inherited the systems.
Peggy tells us that BUCS is used by the various departments for billing.  She says it is easy to use.  The department heads understand it and make use of the various reports that BUCS provides.  Peggy also likes how well BUCS interfaces with CHIPS making all their jobs easier.
"The best part of Frey Municipal Software's software is the support and training it provides," Peggy tells us.  "Dean has been a life saver with his support and his memory of how we do things here."
Thanks for the positive feedback, Peggy – we are glad you and the Village are part of the FMS family!