New Research: The Most Important Moment for Utility Customer Satisfaction
What moments are most important to have satisfied utility customers?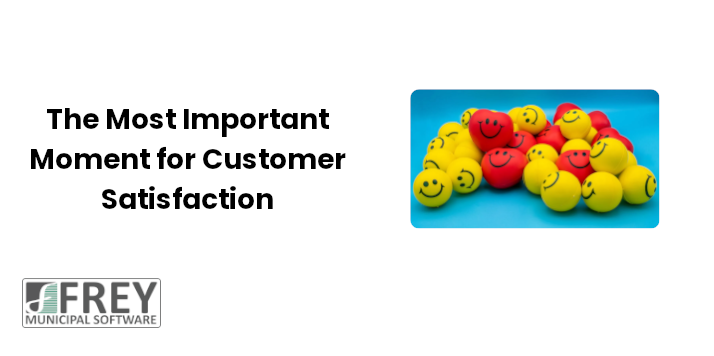 Both Frey Municipal Software and InvoiceCloud stand out in large part because of their customer service. No one wants to feel like just a number and striving to make sure your products and services make your customers happy is key to a long standing relationship. Both FMS and InvoiceCloud understand what touchpoints are most important to their customers. It was a major reason why we decided to partner with them for online payments!
Improving and maintaining customer satisfaction scores is a major priority for utility providers today – and for good reason. Customer satisfaction (CSAT) can dictate everything from call volumes and other operational efficiencies to J.D. Power scores. However, while utility organizations see the impact of their customer satisfaction (for good or for bad) daily, some providers aren't making an important connection.
💡
"Customers are frustrated because they know utilities have their data, but the utilities don't use the data in ways that improve the customer experience," IDC's Roberta Bigliani told Harvard Business Review.
It's true; research from that same report shows less than half of utility companies are redirecting resources towards customer experience (CX) innovations for the future. And with today's customers becoming increasingly used to instant, intuitive consumer experiences, falling behind these CX expectations leaves the door open for increasingly dissatisfied customers.
InvoiceCloud ran an online survey in August 2022 with the goal of understanding the billing and payment preferences of today's utility customers, as well as areas of satisfaction and dissatisfaction. In total, we collected ~1,700 qualified responses from utility customers across the country.
The Most Important Moment
In a 2021 study, McKinsey & Company determined the answer to that critical question: what's the most important touchpoint in a utility customer's journey? After surveying a sample size of utility customers on their preferences and the performance of their utility provider, the answer was resoundingly, "receive and pay my bill."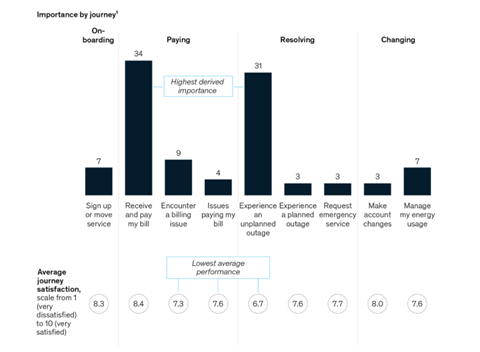 This finding makes perfect sense. Billing and payment is a universal touchpoint, applicable to all utility customers. Even for utility providers themselves, this touchpoint determines revenue collection, service shutoffs, and much more.
Data fielded by InvoiceCloud corroborates this datapoint: "Receive and pay my bill" was also ranked the #1 most important touchpoint among our respondents. However, we also uncovered a concerning disconnect regarding this critical moment.
The Most Dissatisfactory Moment
After surveying over 1,700 utility customers on any dissatisfaction they have with their utility services, we found nearly half of respondents were unhappy with some aspect of their provider's CX
To clarify which particular experiences were causing the dissatisfaction, we next asked the unhappy 43% which touchpoints were causing their frustration. Unfortunately, that same critical touchpoint, "Receive and pay my bill," was ranked the least satisfactory touchpoint by these respondents.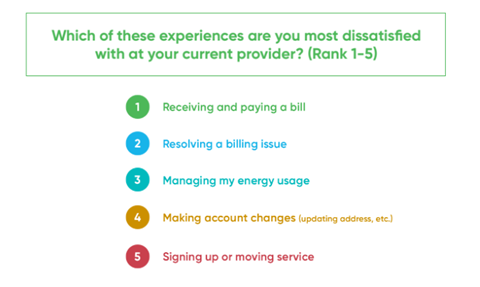 The data makes one thing clear: billing and payments hold more weight with customer satisfaction than any other point along the customer journey – for good, or for bad. For enterprise utilities, this means the billing and payment experience is a major factor in remaining a provider of choice. But for utilities of any size, a negative billing and payment experience can still impact critical operational efficiencies, resulting in:
Higher call volumes
Frequent late, mailed-in payments
Costly print and mail expenses
Burnt out customer service staff, and more
3 Ways to Improve this Critical Touchpoint
So, if "receiving and paying bills" is both the most important and least satisfactory moment for utility customers, here's the big question: how can utilities make the most of this brief yet all-important touchpoint?
Get your free copy of our new research report, The Utility CSAT Report: Improving Satisfaction Where It Matters Most, for insights from utility customers like yours.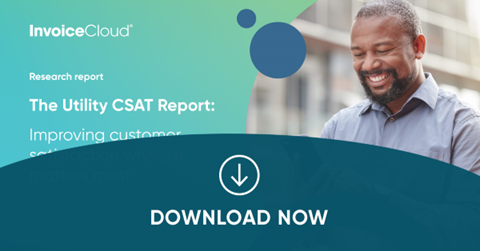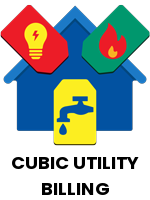 CUBIC
A power Utility Billing System and Customer Information System can supercharge your organization
Learn more