We are teaming up with InvoiceCloud!
FREY Municipal Software and InvoiceCloud partner to provide improved online utility payments to municipalities across the US.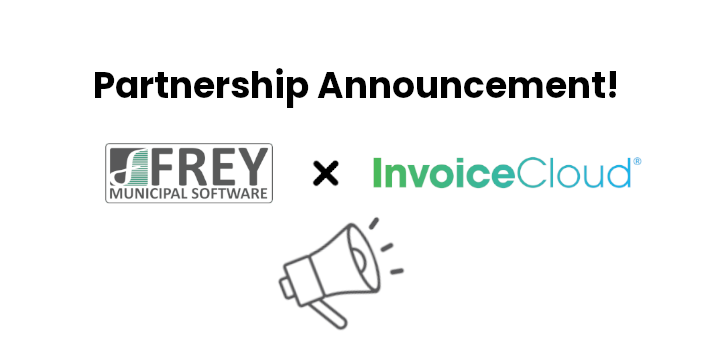 You may have seen the news on Businesswire already, but we are excited to announce a new strategic partnership with InvoiceCloud to provide an enhanced bill payment experience for your customers. This means FMS will soon be offering InvoiceCloud as an integrated solution for our CUBIC Utility Billing and CIS (customer information system). InvoiceCloud's features will increase your online payment adoption rate, provide new payment types for your customers, enable your customers to enroll in auto-pay, and more!
Hundreds of Municipalities and Special Districts across the US are already utilizing InvoiceCloud for their digital payments and we are excited to bring InvoiceCloud's functionality to many more.
"Teaming with InvoiceCloud provides our clients with a payment solution that is dynamic, agile, and dedicated to keeping pace with today's trending market of electronic payment options," said FMS President and CEO Matt Frey. "InvoiceCloud continually makes the process of paying bills more intuitive, streamlined, and flexible for customers. As a result, the InvoiceCloud platform will enable our municipal customers to receive payments more quickly and at an increasing volume. We are confident that this relationship will improve all FMS products and deliver a superior service to our customers and the communities they serve."
"FREY Municipal Software shares our goal of improving efficiencies for customers and their end-users," said InvoiceCloud Vice President of Alliances Paul Applegate. "As FREY grows, we can easily scale with them so that utilities can quickly implement our integration and spend less time on manual, administrative tasks and more time on projects that create a large impact in their local community."
If you are interested in learning more about InvoiceCloud or would like to work with them for your customer bill payments, click the button bellow or reach out to your favorite support technician for more information.