Marion, Texas has full confidence in Frey Municipal Software
Suzanne Gonzales speaks to why Frey Municipal Software is the right software for Marion, Texas.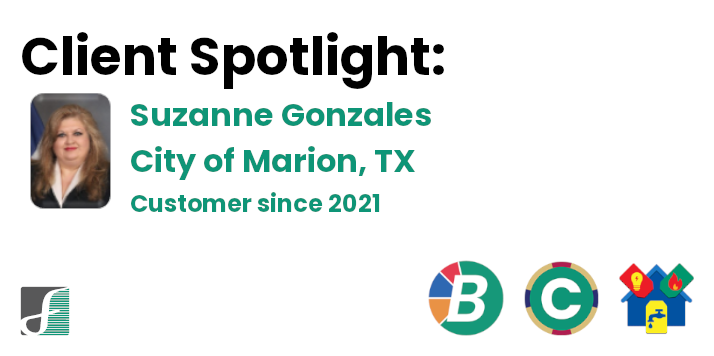 The City of Marion, Texas is a small town considered part of the metropolitan area of San Antonio. The city was founded in 1877 as a major railway stop to get Texas ready for the exports being brought in from ports in the Gulf of Mexico.  The settlement was named after Marion Dove whose family owned much of the land that the railway passed through.
The city purchased BUCS Fund Accounting, CHIPS Payroll, and CUBIC Utility Billing systems in 2021.  Suzanne Gonzales is the City Secretary/HR Director.  Suzanne studied Business Administration and HR Management at Western Governor's University.  She has experience working in the transportation industry and has been working in county government positions for close to 10 years.
Suzanne tells us that the city chose Frey Municipal Software BUCS Fund Accounting because it offered what the city needed in regard to having a fund accounting system that is specific to municipality needs.  Suzanne gave several reasons why she likes using BUCS such as the ease of use and the ability to extract the necessary data specific to the type of report needed along with the ability to create charts and graphs.
💡
"[Support] has been patient with us and has gone above and beyond basic support to assist us whenever needed" - Suzanne Gonzales
Suzanne says that there are so many things she likes about all the modules that are offered in BUCS. But most important to her is FMS customer service and support, which she called excellent. The support staff "has been patient with us and has gone above and beyond basic support to assist us whenever needed" according to Suzanne.  She also mentioned that FMS training is wonderful as it helped her and the staff become more efficient in their daily operations.
Thanks, Suzanne. We are glad you are part of the FMS family!

Fund Accounting, Payroll, and Utility Billing Software
Learn more about the suite of products FMS has to supercharge your office.
Learn more