Reduce waste and increase flexibility with the Blank Check Stock Module
Printing checks through BUCS is made easy with the Blank Check Stock Module.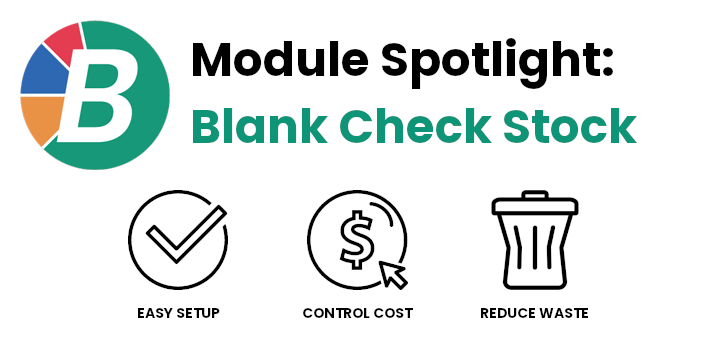 The BUCS Fund Accounting Blank Check Stock Module allows you to print your A/P checks on blank check stock. You will be able to control the cost and waste associated with pre-printed checks.  You can make changes to your check information as they occur and it also eliminates the need to worry about mistakes when running checks.
Setup is as easy as entering your existing checking accounts in set-up and adding your logo and up to three digital signatures.  Benefits include not having to wait to make any changes or chasing down someone to sign checks.  Each checking account can be set up differently including even having an account continue to use pre-printed checks. Plus, there is no check stock to be stored with account information and blank check stock is readily available directly through FMS.
If this sounds like a tool that would enhance your operation, contact Sales at 800.659.3739 for additional information and a quote to add the Blank Check Stock Module to your BUCS Fund Accounting software.

Fund Accounting, Payroll, and Utility Billing Software
Learn more about the suite of products FMS has to supercharge your office.
Learn more