Aurora Utilities chooses Frey Municipal Software
Read more about why Aurora has been an FMS customer since 2017.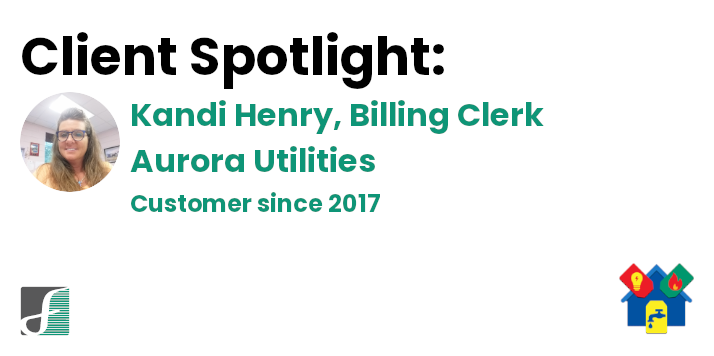 Aurora is a historic river town that is situated 35 miles west of Cincinnati, Ohio, located in the Southeast corner of Indiana. Aurora was settled in the early 1800's and incorporated in 1845 and has strong historic connections to the Ohio River. Aurora is full of unique and historic buildings that preserve its older river city characteristics. Aurora Utilities has been using Frey Municipal Software's CUBIC Utility Billing system since 2017.
Kandi Henry, Billing Clerk, has many years of experience in customer service.  She uses CUBIC to bill customers for gas, water, sewer, and trash.  She tells us that Frey Municipal Software was chosen due to the vast number of features the software offers and that the software is so user friendly.
When asked what she liked best about CUBIC, Kandi replied, "If there is a unique report that we need, it can be quickly and easily created using Crystal Reports to satisfy our needs."
Kandi told us what she likes best about Frey Municipal Software is the friendly staff. She says the willingness of the support staff to always help with any questions or concerns is a big plus.
Thanks for your kind words, Kandi.  We are glad to have you as part of the FMS family.

Fund Accounting, Payroll, and Utility Billing Software
Learn more about the suite of products FMS has to supercharge your office.
Learn more