The Importance of Utility Rate Increases: Ensuring Financial Viability and Sustainable Infrastructure
Utilities are the lifeblood of modern society. They provide essential services like electricity, water, and natural gas that we rely on every day. However, maintaining and improving...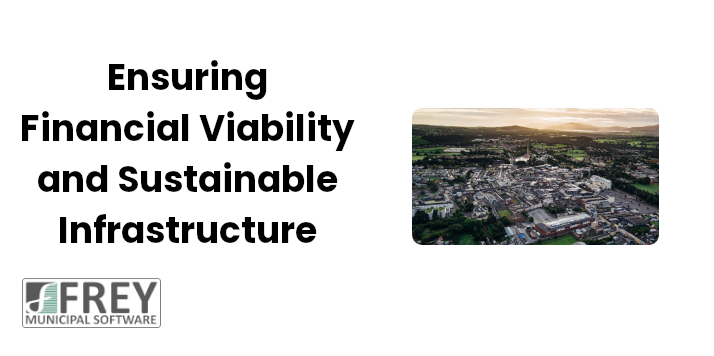 Utilities are the lifeblood of modern society. They provide essential services like electricity, water, and natural gas that we rely on every day (which our software can help you bill for!). However, maintaining and improving these vital infrastructures require considerable financial resources. One way to ensure that utilities have the necessary funds to continue providing reliable services is through rate increases. In this blog post, we will explore the importance of raising utility rates and how it can contribute to the financial viability and sustainability of your Municipality. We will be referencing the United States Department of Agriculture's (USDA) document on financial viability, which can be accessed here: USDA Financial Viability Document.
Ensuring Financial Viability
Financial viability is crucial for Municipalities, Special Districts, and Utility companies to maintain and expand their infrastructure, invest in new technologies, and meet the ever-growing demand for their services. As census reports continue to show that citizens are leaving American's cities for suburbs, it's important for even small utility providers to consider their long term sustainability.
As stated in the USDA document, "financial viability is the ability of a utility to cover the costs of operations, maintenance, and debt service and to generate sufficient revenue to fund capital improvements" (USDA, pg. 2).
Regular rate increases play a critical role in ensuring the financial viability of utilities. They provide a steady source of income, allowing utilities to cover operational costs, maintain infrastructure, and invest in capital projects. Without rate increases, utilities may struggle to generate enough revenue to meet these expenses, which can ultimately lead to deteriorating infrastructure and reduced service quality.
Adjusting for Inflation
Inflation is an economic reality that affects all sectors, including utilities. Since 2021, we have seen inflation rates of over 6%! The cost of goods and services increases over time, so too must utility rates in order to maintain financial stability.
By raising rates, utilities can keep pace with inflation and continue to provide essential services without compromising their financial health. Failing to adjust for inflation can erode the purchasing power of utility revenues, making it more difficult for them to meet their financial obligations and invest in necessary infrastructure improvements.
Funding Infrastructure Improvements
Utilities require significant capital investments to maintain, upgrade, and expand their infrastructure. Rate increases help to fund these essential projects, ensuring that utility systems remain reliable, efficient, and capable of meeting the needs of their customers. Additionally, it prevents you from being too reliant on Federal or State funding for public works projects.
In the USDA document, it is mentioned that "utilities must plan and finance capital improvements, such as system upgrades, expansion, or replacement, to ensure their systems continue to meet the needs of the community" (USDA, pg. 2).
💡
Funding improvements should include physical infrastructure and digital improvements like software.
Regular rate increases provide a stable source of funding for these improvements, allowing utilities to invest in projects that benefit both current and future customers.
Encouraging Conservation and Efficiency
When utility rates are increased, it creates an incentive for customers to use resources more efficiently and conserve energy. Higher rates can lead to consumers becoming more conscious of their usage habits and investing in energy-efficient appliances and technologies.
In turn, this can help to reduce overall demand, making it easier for utilities to manage their resources and maintain reliable service for all customers
Challenges and Concerns with Rate Increases
While utility rate increases are essential for maintaining the financial viability and sustainability of utility infrastructure, they can also give rise to certain challenges and concerns. Some of the potential issues that may arise when a utility raises its rates include:
Affordability concerns: One of the primary concerns associated with rate increases is the potential impact on low-income households. Higher utility rates can place a greater financial burden on customers who may already be struggling to afford essential services. This can exacerbate issues related to energy poverty and social inequality.
Public backlash: Rate increases can lead to public backlash and customer dissatisfaction, as people may not fully understand the reasons behind the increase or view it as an unnecessary burden. Effective communication and transparency about the need for rate increases and their benefits are crucial to mitigating negative public sentiment.
Political pressure: Utilities may face political pressure to avoid rate increases, particularly during election cycles, when politicians might be more focused on winning votes than addressing long-term infrastructure needs. This can make it challenging for utilities to implement necessary rate increases in a timely manner.
There are also regulatory authorities that can have a say in your utility rates. For example, the regulation of utility rates is typically overseen by state-level regulatory commissions, such as public utility commissions or public service commissions. These commissions are responsible for ensuring that utility rates are just and reasonable, balancing the financial needs of the utility with the interests of the customers.
Before a utility can implement a rate increase, it must typically submit a proposal to the relevant regulatory commission, outlining the reasons for the increase and providing supporting documentation. That supporting documentation typically includes financial reporting and records that adhere to NARUC standards. The commission will then review the proposal, gather public input, and make a decision on whether to approve, modify, or reject the proposed rate increase.
In conclusion, while raising utility rates is necessary for maintaining the financial viability and sustainability of utility infrastructure, it is important to consider the potential challenges and concerns associated with rate increases. Effective communication, transparency, and a focus on affordability measures can help to address these issues and ensure that rate increases are implemented in a manner that balances the needs of utilities and their customers. Additionally, the regulatory oversight provided by governing bodies helps to ensure that rate increases are fair and reasonable, taking into account the interests of all stakeholders.
It is important to work with software that helps you maintain proper financial records, budget planning, and billing capabilities so that you can justify and raise rates as needed. At Frey Municipal Software, our fully integrated software helps our clients do that and more!

Fund Accounting, Payroll, and Utility Billing Software
Learn more about the suite of products FMS has to supercharge your office.
Learn more