Spencer, IN relies on FMS fund accounting and utility billing software
Learn more about why FMS software is amazing, right from the client.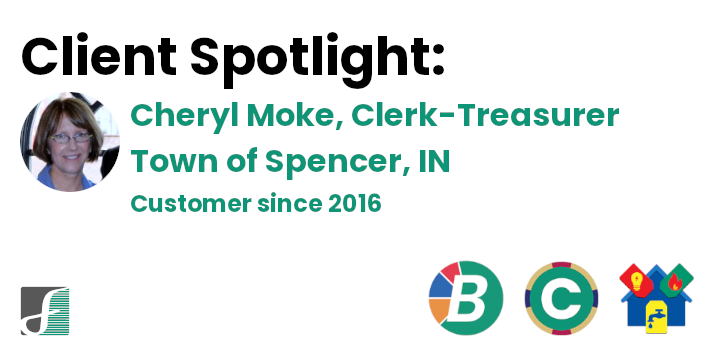 The Town of Spencer, IN is the county seat of Owen County. Spencer is considered a part of the Bloomington Metropolitan area since it is only twenty minutes away. The town is nestled along the banks of the White River with a population of a little over 2,200. The Clerk-Treasurer for the town is Cheryl Moke. Cheryl, who has a BS in Accounting and is a CPA, used to work primarily in corporate and public accounting before she began working in government accounting in 2011.
The Town of Spencer started using CUBIC utility billing, BUCS fund accounting , and CHIPS municipal payroll software 3 years ago. Cheryl explains that she was looking for an integrated package with better reporting and tracking for funds in General Ledger. She found with the town's previous software that the G/L and payroll seemed to be afterthoughts. The software didn't provide any usable reports nor was there the flexibility to create your own reports with Crystal Reports. Cheryl says, "Keeping track of fund balances was a manual process. There was no interface to Gateway for either annual reporting or budgets nor for the IRS for W-2s." Cheryl found all of these options in Frey Municipal Software.
She has found with CHIPS that preparation of quarterly returns and W-2s are much easier. Cheryl tells us that CHIPS is the first payroll software she has seen that manages COMP time. She goes on to say, "In short, I save hours and hours of time and have more confidence in the numbers with the switch to Frey Municipal Software"
One of the last questions asked was what Cheryl liked best about Frey Municipal Software. Her reply, "Support from Frey, hands down is the best! If naming names, Dean is the best!" She goes on saying that Frey makes the client/customer feel you have an onsite IT person that is always available. Thanks, Cheryl, for all the kind words! We are glad to have the Town of Spencer in the Frey Family.