FMS powers Pasco County Property FL Appraiser with Fund Accounting
Learn more about why FMS software is amazing, right from the client.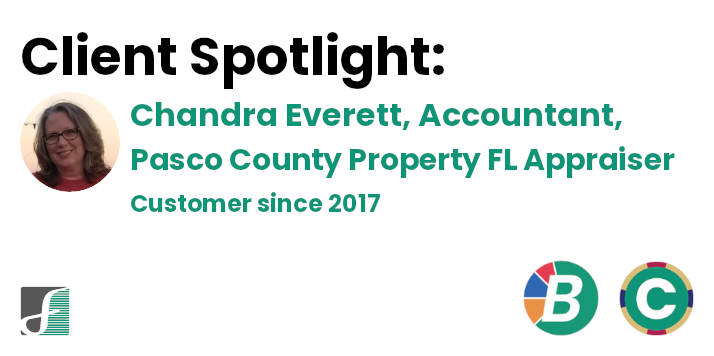 Located on the Gulf of Mexico in the Tampa Bay region, Pasco County was formed in 1887 from the southern part of Hernando County. The county got its name from a prominent local citizen, Samuel Pasco. Pasco County is part of a nine county region referred to as the "Nature Coast" in Florida.
The Pasco County Property Appraiser is a government entity that services a population of over 540,000 with 340,000 property parcels. The tax roll for this county is $29 billion.
Chandra Everett was hired in 2017 as an accountant. She has an education in business management and accounting and has 20 years of experience in banking and finance.
Pasco County uses BUCS fund Accounting and CHIPS payroll software systems. Chandra explained that FREY Municipal Software was chosen due to its positive reputation within various government finance offices. Chandra pointed out that FREY Municipal Software is government/fund accounting specific which meets the county's specialized needs for financial software.
When asked what she liked best about CHIPS, Chandra named two things. The "tracking of time off" helps to make payroll easy to do. She also really likes the ease that CHIPS gives her in completing quarterly and year end reports.
Chandra ended the interview saying how much they like FREY Municipal Software's support (especially Dean!) along with how Frey keeps the software up-to-date through annual releases and the ease of installing those updates.
Thanks for all the kind words, Chandra! We are glad to have Pasco County Property Appraiser in the Frey Family.