FMS powers Ossian, IN with Fund Accounting and Utility Billing
Learn more about why FMS software is amazing, right from the client.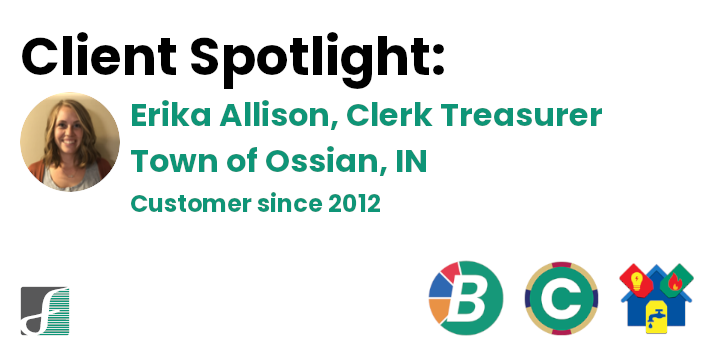 The Town of Ossian is located about 10 miles south of Fort Wayne, Indiana. Settled mostly by those of Scottish descent, it's named after the legendary Scottish poet, Ossian, son of Fingal from the 3rdcentury. The word, Ossian, is interpreted as Little Fawn. This industrial town was established in 1846 and later incorporated in 1850.
Erika Allison became the Clerk Treasurer two years ago. She holds a Bachelors degree in Business from Indiana University and has previous experience in accounting.
The Town of Ossian has been using BUCS, CHIPS, and CUBIC systems since 2012. Erika tells us that FREY Software was chosen due to the value of the customer support offered and the positive recommendation from the City of Bluffton, a nearby municipality. The town also liked Frey's technology which allows them to grow.
Erika loves how BUCS streamlines the process with the standard invoices and receipts. This allows her to save time when dealing with repeated invoices and receipts.
When asked what she liked best about FREY, Erika's immediate response was the customer service. "Anytime I call with a question or for assistance, I always get a quick response and resolution – John's the best!" Erika goes on to say that all the different modules and packages that are offered and how it all works together cohesively is a major plus.
Thanks for the positive feedback, Erika – we are glad you are part of the FREY family!