Internet Inquiry & E-Billing Modules
Empower your customers to pay their bills from anywhere!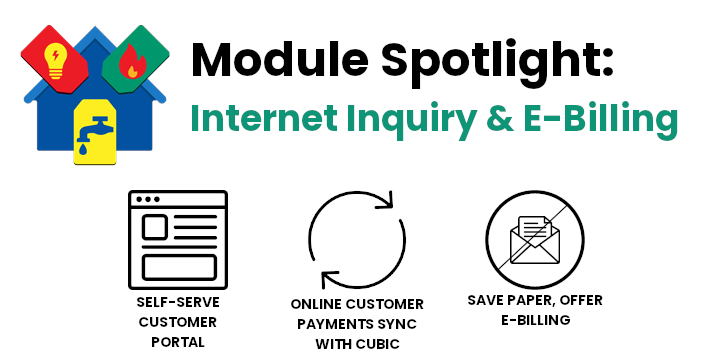 Two of the more popular modules for CUBIC are the Internet Inquiry and E-billing modules. These two modules work hand-in-hand to allow your customers to utilize the internet to view or receive their bills online.
The Internet Inquiry provides access to various account information such as due date, last payment date, last bill amount and account balance. For those with metered services, graphs and usage history are also available. The data is uploaded to a web server so your customers aren't accessing your CUBIC system but a limited amount of data on the internet. The web server is hosted by Frey Municipal Software so you do not have to worry about keeping up with a server.
Data is uploaded as often as you choose. This process can be set-up as an automated process that can be, for example, run at night. Your customers will also have the ability to pay their bill online via a credit card. The payment processing company will send a daily report as well as a payment file to import the payments directly into CUBIC. This eliminates manually receipting these payments.
E-billing works with Internet Inquiry by allowing your customer to choose to receive an e-bill notification along with a paper bill or just the e-bill notification. The e-bill notification uses the popular POP3 e-mail protocol to send these notifications. The e-mail that is sent is simply a notification that their current bill is now available to be viewed online and includes a link to their account login page for quick access to view their e-bill!
FREY Municipal Software will be delivering major enhancements to the popular Internet Inquiry module and online payment options. Numerous changes and updates are being made to better serve our clients and their customers. If this sounds like a fit for you, click the button below to get in touch or reach out to a member of the FMS team!