Falmouth, KY uses FMS for fund accounting and utility billing software
Learn more about why FMS software is amazing, right from the client.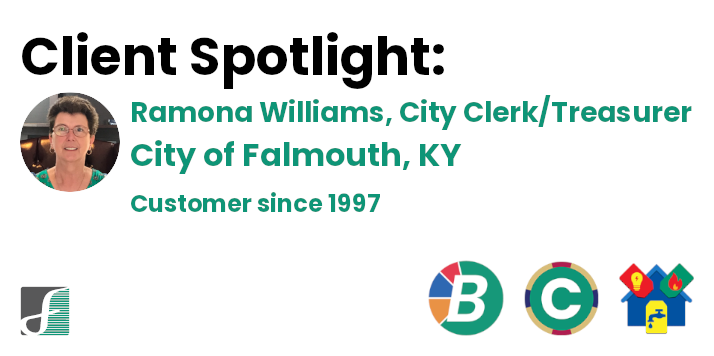 The City of Falmouth, KY lies at the confluence of the South and Main forks of the Licking River. It is the county seat for Pendleton County. The city is a municipality that provides utility services of electric, water, sewer, and garbage to approximately 1200 customers.
Ramona Williams is the City Clerk/Treasurer and has been with the city since 1997. She just received her certification from the KMCA as a Certified Kentucky Municipal Clerk. The city has used BUCS Fund Accounting Software since 1997 and the city added CUBIC Utility Billing System in 2006. The city has recently purchased CHIPS Payroll System as well.
The decision to switch to BUCS Fund Accounting in 1997 was based on the broad list of fully integrated municipal finance features found in the BUCS product. Ramona says this significantly decreased the amount of data entry work. Another factor was the ability to create customized reports tailored to the governing body and its city council.
When asked what she liked best about the software, Ramona points out that it is very user friendly. The city uses BUCS Fund Accounting Software to maintain their budget. "The reports we are able to generate and give to our City Council members provide a clean analysis of the monthly budget revenues and expenses," explains Ramona.
Ramona ended the interview with these comments: The most important benefit for Frey Municipal Software is the support provided by their team of experts. We've had some interesting situations to contend with in our 22 years relying upon BUCS and Frey and we have had a resolution to every scenario! That has been accomplished with the utmost professionalism of their technicians. I cannot imagine ever changing software companies!
Thanks for the generous compliments, Ramona –we are glad you are part of the Frey family!