CUBIC Print & Mail Service Options for your municipal software
How can print & mail services help your municipality?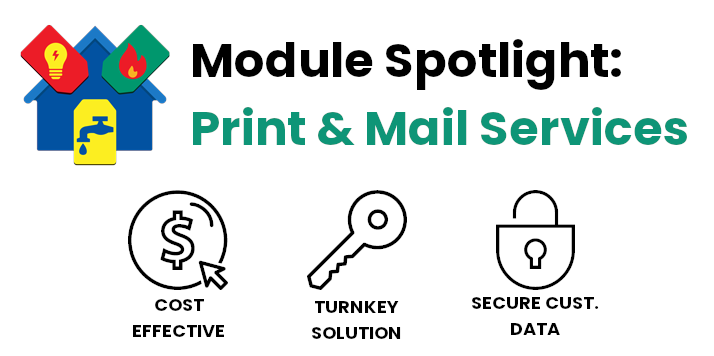 Did you know that CUBIC offers an alternate way to handle the actual printing and mailing of your utility bills? It's called Print & Mail Service. This option allows you to use our preferred vendor "Data Mail, Inc." to handle the printing and mailing of your bills. When the Print to File option is checked in System Controls, CUBIC creates a data file of your bills which is uploaded to Data Mail, Inc. for processing.
Data Mail, Inc., a Frey Municipal Software preferred vendor, provides this service to CUBIC customers. Data Mail, Inc., headquartered in Evansville, IN is a service oriented company that has been providing quality printing and mailing services for over 36 years. The company provides commercial printing services, transactional mailing services, and complete direct mail marketing services.
Adam Miller, Vice President and General Manager at Data Mail, Inc., says the company provides bill and invoice services to all types of businesses from medical, insurance, and professional service providers to universities, banks, and utilities. They provide flexible statement or postcard format utility bills.They then automate the CASS certification postage and delivery through the USPS System. Data Mail, Inc. is able to provide a turnkey solution for your utility bill printing and mailing and often times, the cost is less than what it costs you to print and mail your bills in house.
The customer simply uploads their CUBIC billing file to the secure Data Mail FTP server. Data Mail, Inc. then processes the file, provides pre-production proofs for the customer to approve, and then, prints and mails the approved bills. The typical turn-around time from file receipt to mail is 2-3 business days.
You can visit their website for more information. Or, call Adam for a comprehensive cost proposal on print and mail service at 812.426.MAIL (6245) or e-mail him at: adam@datamailinc.com.