Attica, IN trusts FMS for Fund Accounting, Payroll, and Utility Billing
Joanne Broadwater outlines why FMS was the right choice for Attica.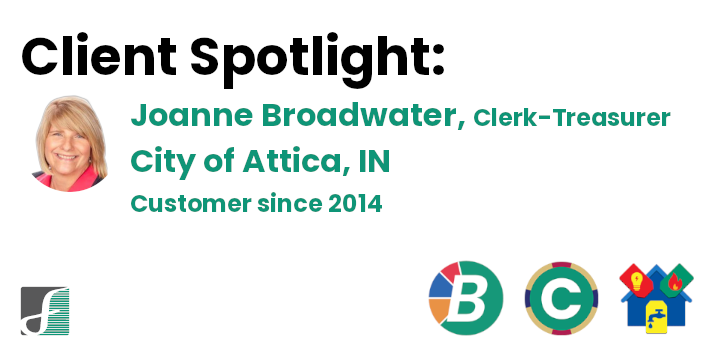 The City of Attica is located in the western part of the state of Indiana on the Wabash River.  The city was established in 1869.  Attica is known for being the birthplace of George Dewey Hay, the founder of the Grand Ole Opry in Nashville, TN.  The city operates a utility and bills for water along with the city court, issuing building permits and registrations for golf carts and ATVs for use within the city limits as well as all the HR and payroll for all the city employees.
The Clerk-Treasurer, Joanne Broadwater, was elected in 2020.  She has a Bachelor's degree from Ball State University.  Joanne is a securities licensed Financial Advisor who owns and operates her own financial services firm while dealing with her duties as the elected clerk-treasurer for the city.
Joanne inherited the Frey Software Systems that are used within her office.  The former clerk-treasurer started with CUBIC Utility Billing and added BUCS Fund Accounting and CHIPS Integrated Payroll systems a couple of years later. They have been FMS users for 8 years.
When asked what she liked about BUCS, Joanne replied that the system is very user friendly and dynamic.  In her opinion, though, the best part of using BUCS is the outstanding support FMS provides to its users. Joanne says, "The FMS support team is professional and friendly plus they are always available when you need them."
Thanks for the positive feedback, Joanne.  Welcome to the FMS family!