Summit County DOSSS, OH uses FMS for utility billing software
Learn more about why FMS is amazing, right from the client.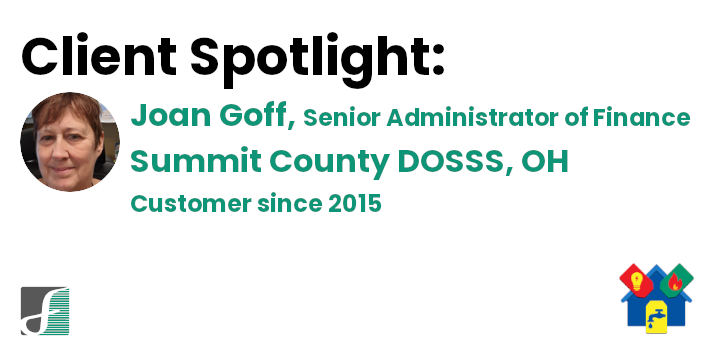 The County of Summit is located at what is considered the highest point along the Ohio and Erie Canal.  Summit County Department of Sanitary Sewer (DOSSS) is based in Akron, OH and is considered a government sanitary sewer operation. The county operates and maintains wastewater collection, transportation and treatment systems in the unincorporated areas of the county and certain municipalities.
Joan Goff is the Senior Administrator of Finance for the county.  Joan has 31 years of on-the-job experience with customer service, billing, and finance. The county bills only sanitary sewer.
Joan tells us that CUBIC was chosen because Frey Municipal Software was able to handle the complexity of their department. Joan explains, "We have 50,000 sanitary sewer customers which include residential, commercial, and industrial customers." Joan goes on saying that these customers include metered accounts which are based on water usage obtained from other entities and flat rate accounts.  Joan tells us she likes CUBIC for the ease of use, the available reports, and the compatibility with other software programs that the county uses.
Joan told us that she feels FMS is a great company and is very accessible to their clients.  FMS's staff is very accommodating to the county's needs assuring that Summit County DOSSS has what is needed to provide the best possible service to their customers. "The FMS staff always goes above and beyond to help us through any issues," Joan said. She says that Matt Frey & Dean Eldridge along with the rest of the staff are top notch! Thanks for the kind words, Joan. We are glad you are part of the FMS family.