City of Winchester, a long standing FMS client
FMS is the right choice for your municipal software needs.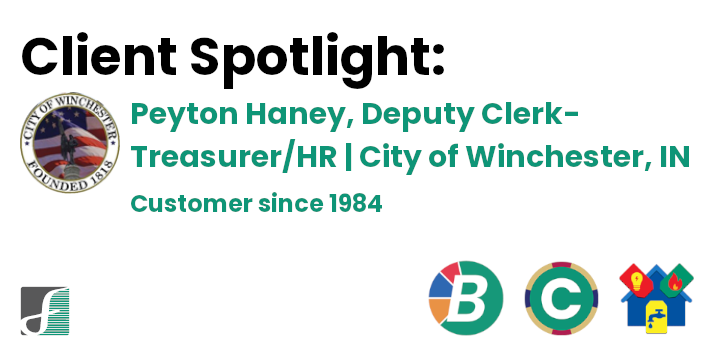 The City of Winchester has been a Frey Municipal Software user since 1984. Peyton Haney, Deputy Clerk-Treasurer/HR, has been employed with the city since 2016.  She started with the city using the FMS CUBIC system.  In 2019, she started getting familiar with BUCS and CHIPS in order to replace a retiring colleague.
Peyton told us that the city chose FMS software due to the applications being user friendly and easy to navigate.  Another deciding factor was the incredible support that FMS provides to the end user.  She mentioned that recommendations from other neighboring municipalities provided helped make the decision easy!
Peyton uses FMS CHIPS not only for payroll processing but for the quarterly and year end reporting to meet the Federal & State guidelines. Peyton tells us that, in her opinion, the best feature in FMS CHIPS is the ability to be able to upload employees pay stubs online.  This feature saves her time allowing her to accomplish other job tasks.  She is now working on convincing the city to move everyone to an online time and attendance system.
Peyton was asked about what she liked best about FMS.  Her reply, "I like how all the staff is friendly, eager, and willing to help with even the simplest things."  She feels that support is very knowledgeable about the programs and takes the time to figure out exactly what is needed to solve the problem even when it is sometimes difficult to explain what help is needed.
Thanks for the kind words, Peyton.  We are happy to be able to serve your municipal software needs.  Welcome to the Frey family!