FMS powers Aha Macav, AZ with Fund Accounting and Utility Billing
Learn more about why FMS software is amazing, right from the client.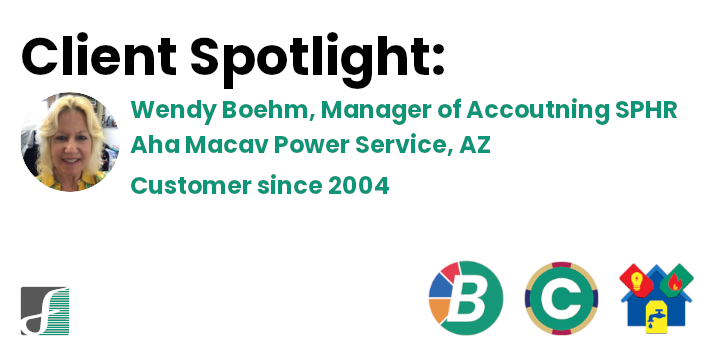 The Fort Mojave Indian Tribe (FMIT) is one of only a handful of tribes in the US that have established a tribally owned and operated electric & gas utility. Aha Macav Power Service (AMPS) provides electric power service to homes and businesses located within the Fort Mojave Indian Reservation. The reservation stretches along the Colorado River in the area where California, Nevada, and Arizona meet.
Wendy Boehm is the manager of accounting for AMPS. Wendy holds a BBA from the University of Wisconsin, Whitewater. She also has been certified in Senior Professional Human Resources(SPHR). She has 15+ years experience in accounting and business administration and has been with AMPS for over 6 years.
CUBIC® was already in use by AMPS when Wendy started there. She tells us that CUBIC® was chosen due to its customization for a small utility, the level of customer support, and the user friendly platform of the CUBIC® software. AMPS uses the software to only bill electric services. Wendy says what AMPS likes best about CUBIC® is its user friendly design.
Wendy feels that AMPS has taken full advantage of the readily available support provided for Frey Municipal Software. She feels the AMPS staff has greatly benefited from investing in refresher training on the system recently. Wendy states that the staff of Frey Municipal Software has been a pleasure to work with.
Thanks for the kind words, Wendy. We appreciate your business.